Visitors
| | | |
| --- | --- | --- |
| | Today | 657 |
| | Yesterday | 810 |
| | This week | 3441 |
| | This month | 5510 |
| | All | 2707709 |
Welcome to The Iron Throne
Written by Axl Baratheon
venerdì, 18 febbraio 2011
From Martin's Blog:
So… back in 1981, Parris left Portland, Oregon for Santa Fe, and moved in with me in my old house on Declovina Street. We've been together ever since, for good times and bad, a move or two, more cons and road trips and adventures than either of us can remember now in our advanced old age.
After thirty years, we finally decided that maybe this relationship was going to work out after all.
So on the evening of February 15, we finally made it official, and married in front of our hearth at our home here in Santa Fe. The hearth is Lannister red, but the bride wore Tyrell colors. Unlike most Westerosi weddings, no one was killed and only tears of joy were shed.
(I can hear some of you saying 'What took you so long?' What can I say? I'm slow. With writing and with… ah… other things. )
Parris and I have been very very lucky. In each other, in our friends, and in the prosperity we've enjoyed over the past few years. There's very little we need in the way of gifts, flowers, etc. So if you would like to give us a wedding gift, please consider making a donation to the one of these charities. They all do good work, and have more need of your largesse than we do.
http://www.wildspiritwolfsanctuary.org/

http:// http://www.shelterbox.org/

http://www.worldwildlife.org/home-full.html

http://www.zoo.org.au/HealesvilleSanctuary/


We are so happy to share the news with all our friends, old and new, the friends we have yet to meet, and with all of my (George's) readers. And now we've off for a six-month Honeymoon trip around the world. See you when we get back.
(no, no, no, just kidding. GRRM will be honeymooning on Skull Island, I promise)
* Mood: ecstatic ecstatic
George R.R. Martin
Last Updated ( venerdì, 18 febbraio 2011 )
Written by Axl Baratheon
mercoledì, 02 febbraio 2011
From Martin's blog:
Whether you're an Ice & Fire reader or a funny book fan or both, I have cool news for you. A SONG OF ICE AND FIRE is coming to comics. Random House/ Bantam Books has acquired the rights to do a graphic adaptation of the series, to be published as monthly comics (in partnership with Dynamite Entertainment) and as graphic novels in trade paperback format.
The comics will be scripted by DANIEL ABRAHAM, who should need no introduction to regular readers of this blog... but I'll give him one anyway. Daniel is the author of ten books and more than thirty short stories, under his own name and the pseudonyms M.L.N. Hanover and James S.A. Corey (with Ty Franck). He has been nominated for the Hugo, the Nebula, and the World Fantasy awards, and won the International Horror Guild Award. Daniel's previous comic work includes the adaptation of my historical horror novel FEVRE DREAM for Avatar, and the original Wild Cards series THE HARD CALL for Dynamite and DBPro. When not adapating my fantasy series, he's presently writing his own, THE DAGGER AND THE COIN.
The series will be drawn by artist TOMMY PATTERSON, who won the gig over more than a dozen other artists from around the world who applied for the assignment and submitted samples. With so much top rank talent to pick from, it was a tough choice, but Daniel and I and our editors at Bantam and Dynamite were all knocked out by the character sketchs and sample pages that Tommy submitted.
JON SNOW
Tommy's previous credits include FARSCAPE for Boom! Studios, the movie adaptation THE WARRIORS for Dynamite Entertainment, and TALES FROM WONDERLAND, THE WHITE KNIGHT, RED ROSE, and STINGERS from Zenescope Entertainment. He holds a BS in Studio Art and also works as a graphic designer.
Patterson lives in Western Kentucky with his wife and daughter.
TYRION LANNISTER
The first issue of the monthly comic is scheduled to be published by Dynamite Entertainment in late spring 2011. The graphic novel compilations will be published by Bantam.
*** And yes, for those who were wondering, this was one of the infamous Two Big Announcements that I was originally hoping to make during my visit to Los Angeles in early January, before my holidays in the hospital knocked all my plans off the rails.
George R.R. Martin
Last Updated ( mercoledì, 02 febbraio 2011 )
Written by Carturello
domenica, 09 gennaio 2011
From HBO official Site:
http://www.hbo.com/#/game-of-thrones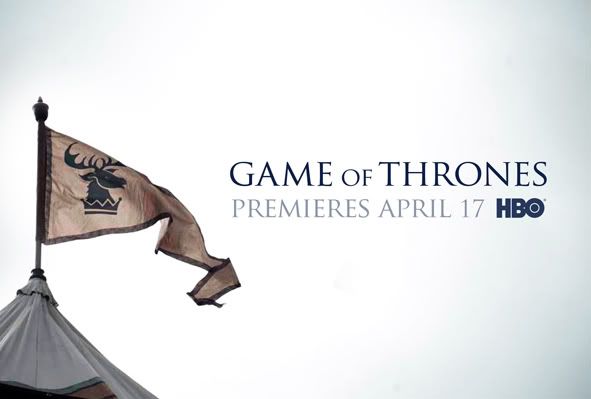 Last Updated ( martedì, 11 gennaio 2011 )
Written by Axl Baratheon
lunedì, 20 dicembre 2010
From Martin's blog:
With the year running down, we'll all soon be needing new 2011 calendars to hang on the wall. There's still time to pick up the official 2011 Ice & Fire calendar, with its gorgeous castle landscapes by Ted Nasmith.
If you can't find the Nasmith calendar at that kiosk that appears every Christmas at your local mall, check your local bookstore.
A few copies may also be available through some of the associated sellers on Amazon, though Amazon itself seems to have sold out.
http://www.amazon.com/Song-Ice-Fire-2011-Calendar/dp/0553808001/ref=sr_1_1?ie=UTF8&s=books&qid=1292828522&sr=1-1
Meanwhile -- not to get too far ahead of ourselves -- but work continues apace on next year's Ice & Fire calendar as well. The artwork on the 2012 calendar will be provided by Hugo-award winning artist and fan favorite John Picacio, and he's doing some amazing stuff. So I thought I'd whet your appetites by showing you the mockup of the cover that Bantam featured in its latest catalog.
The Picacio calendar will be released next July. This may not actually be the final cover, but it should give you a good taste of the spectacular work that John is doing. He tells me he's determined to make this calendar the best work he's ever done.

So... who would you guys like to see do the art for future calendars? Our plan is to feature a different world-class artist every year.
George R.R. Martin
Last Updated ( lunedì, 20 dicembre 2010 )
<< Start
< Prev
11
12
13
14
15
16
17
18
19
20
Next >
End >>
Results 41 - 44 of 92